About the Sucuri WAF
The Sucuri Firewall is a cloud-based software as a service (SaaS) WAF and intrusion prevention system (IPS) developed exclusively for websites.
What is great about the Sucuri Firewall is that it functions as a reverse proxy. The Sucuri WAF intercepts and inspects all incoming hypertext transfer protocol/secure (HTTP/HTTPS) requests to a website. Then the WAF strips the malicious requests at the Sucuri network edge before it arrives at your server.
Another feature that the Sucuri WAF offers is that it includes virtual patching and virtual hardening engines. The Sucuri WAF mitigates threats as they happen.
The Sucuri WAF keeps the threats far from your website without impacting your website negatively. Quite the opposite, the Sucuri website firewall makes a website up to 700% faster, as it is built on a CDN.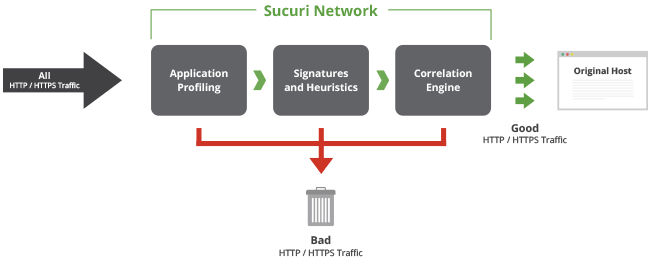 Performance optimization is just one of the Sucuri WAF features. The CDN caches dynamic and static content across all nodes in the network to ensure optimal performance around the world. The Sucuri WAF configuration makes adequate preparation for global reach, load balancing, failover, and comprehensive performance improvement.

The Sucuri WAF runs on a proprietary Globally Distributed Anycast Network (GDAN). Anycast allows a network to broadcast an IP to multiple locations from a single node, permitting the nearest node to respond to a request.
Imagine your website has a global audience: the website is hosted on a server in Houston, but your main visitors are in Asia and Western Europe. If you have the Sucuri WAF activated on your website, the content would be broadcasted from a Tokyo and London Point of Presence (PoP) via our Anycast network.
The result would be an improved user experience as visitors in Asia would get a response from the Tokyo PoP, and the ones in Europe from the London PoP. To sum it up, since Sucuri WAF runs on a Global AnyCast Network, the nearest node responds to the requests, bringing improved availability, resiliency, and failover capability to any website.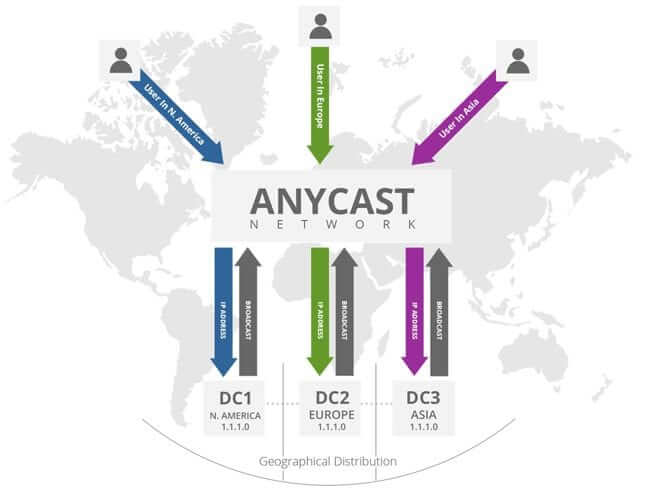 This unique configuration allows for high availability and redundancy if anything fails in the network. Moreover, the Sucuri Web Application Firewall offers full domain name server (DNS) services.
Another great advantage of using the Sucuri WAF solution is that it can help you increase your SEO rankings.
The inclusion of an SSL certificate and improved speed from the Anycast CDN can improve SEO. You might see SEO improvement after the Sucuri WAF is activated because having HTTPS enabled and using a CDN are confirmed ranking signals from Google.
To sum it up, the Sucuri WAF:
Mitigates Distributed Denial of Service (DDoS) Attacks
Prevents Vulnerability Exploit Attempts, such as SQL injections, cross-site scripting (XSS), remote file inclusion (RFI) and local file inclusion (LFI)
Protects Against the OWASP Top 10 (and more)
Protects Against Zero-Day Exploits
Protects Against Access Control Attacks, such as Brute Force attempts
Offers Performance Optimization with its CDN
If you're interested in the Sucuri WAF, find a plan now.