Website Security Framework
Regardless of the size of your business, developing a security framework can help reduce your overall risk.
The US National Institute of Standards and Technology (NIST) developed The Cybersecurity Framework which forms the basis of our website security principles framework in this guide.
Knowing security is a continuous process means it starting with the foundation of a website security framework. This framework will involve creating a "culture of security" where scheduled audits will help in keeping things simple and timely.
The five functions: Identify, Protect, Detect, Respond and Recover will be broken out in more detail along with actions to be applied.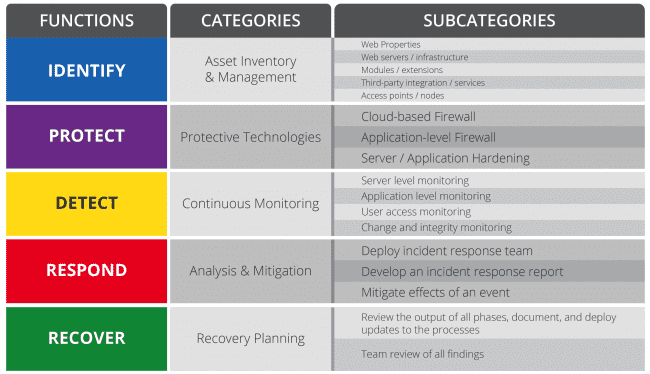 1

Identify

During this stage all asset inventory and management is documented and reviewed.
Once you have a list of your website assets, you can take steps to audit and defend each of them from attacks.
2

Protect

There are many reasons why having preventative measures in place is crucial, but where do you begin? These are known as protective technologies and layers of defense.

Sometimes these measures satisfy compliance requirements such as PCI, or make it easy to virtually patch and harden environments that are vulnerable to attack. Protection can also include employee training and access control policies.

One of the best ways to protect your website is by activating a web application firewall. Taking the time to think through security processes, tools, and configurations will impact your website security posture.
3

Detect

Continuous monitoring is a concept that refers to implementing tools to monitor your website (assets) and alert you to any issues.
You can also use security scanners and tools (such as SiteCheck) to scan for indicators of compromise or vulnerability.
4

Respond

Analysis and mitigation help to build out the response category. When there is an incident, there needs to be a response plan in place. Having a response plan prior to an incident of compromise will do wonders for the psyche.
During the remediation process, we never know beforehand what malware we are going to find. Some issues can spread quickly and infect other websites in shared server environments (cross-contamination).
Preparation & Planning
In this phase, we make sure that we have all the necessary tools and resources before an incident occurs.
This goes hand in hand with the previous sections in the security framework.
Hosting companies play a crucial role in this phase by ensuring that systems, servers, and networks are sufficiently secure. It is also important to ensure your web developer or technical team is prepared to handle a security incident.
Detection & Analysis
Although there are several methods of attack, we should be prepared to handle any incident. After hundreds of thousands of responses, we narrow down most of the infections to vulnerable components installed on the website (mostly plugins), password compromises (weak password, brute force) and others.
Depending on the issue and intent, the detection phase can be tricky. Some attackers are looking for fame, others may want to use resources or intercept sensitive information (credit card).
In some cases, there is no sign that a backdoor has been installed, waiting to be accessed by the attacker for malicious activities. Therefore, it's highly recommended to implement mechanisms to ensure the integrity of your file system.
Containment, Eradication & Recovery
As for the "Containment, Eradication & Recovery" phase, the process has to adapt to the type of issue found on the website and predefined strategies based on the attack.
For instance, cryptominer infections usually consume lots of resources from the server (leecher), and before starting the remediation process the incident response team has to contain the threat. The containment of this attack is a critical step to prevent the depletion of additional resources and further damage.
This decision-making system and strategies are a crucial part of this phase. For instance, if we identify a particular file as being 100% malicious, there should be an action to wipe it out. If the file contains partially malicious code, only that piece should be removed. Each scenario should have a specific process.
Although there are several methods of attack, we should be prepared to handle any incident. After hundreds of thousands of responses, we narrow down most of the infections to vulnerable components installed on the website (mostly plugins), password compromises (weak password, brute force) and others.
Post Incident Activities
Last but not least, the "Post Incident Activities" could also be called the "Lessons Learned" phase.
In this phase, the Incident Response Team should present a report detailing what occurred, what actions were taken, and how well intervention worked. We should reflect on the incident, learn from it, and take action to prevent similar issues in the future. These actions could be as simple as updating a component, changing passwords, or adding a website firewall to prevent attacks at the edge.
Conduct a review of the actions your department needs to take to continue fortifying your security posture. Next, ensure you take those actions as quickly as possible.
In addition, if you're actively using a web application firewall (WAF), review your existing configuration to identify potential adjustments to be made.
Remember that even though WAFs help in meeting several Payment Card Industry Data Security Standards (PCI DSS), they are not a silver bullet solution. There are other factors that can impact your business, especially the human factor.
4

Recover

Recovery planning will happen when a complete review of all phases in the event of an incident takes place. Recover also relates to having a backup plan for situations in which all prior phases failed, for example, in the event of ransomware attacks.

This process should also include arranging time to speak with your security vendor on how to improve areas of weakness. They are better equipped to offer insight into what can be done.
Have a Communication Strategy
If any data is at risk, notify your customers. This is particularly important if you're a business operating in the EU where an organization must report a data breach within 72 hours, according to Article 33 of the General Data Protection Regulation (GDPR).
Use Automatic Backups
No matter what you do to secure your website, the risk will never be zero. If your website functionality is damaged, you need a way to recover the data quickly – not only one way, but at least two. It's essential to have a local backup of the entire application and an external backup not directly connected to the application in case of a hardware failure or an attack.