Let's take a quick look at some of the security features being offered.
I – Backups
Having a proper website backup solution in place means that the website can be restored to its previous state in case a problem were to occur. However, a backup alone does not offer website security.
II – Website Security Scanning
How can you know if there is a problem in advance without monitoring the website environment? We recommend having a robust monitoring solution that includes server-side scanning as well as remote scanning.
III – SSL (Secure Socket Layer)
With an SSL certificate, your website can use the HTTPS protocol to securely transfer information. This is crucial for ecommerce sites and membership sites with user logins. SSL is also a confirmed ranking signal in search engines.
IV – Web Application Firewall (WAF)
A WAF serves as a barrier for website attacks and hacks. It blocks malicious requests, allowing only legitimate traffic. A WAF is capable of blocking DDoS attacks, vulnerability exploitation attempts, and unauthorized access.
V – Clean Up Services
Removing website malware can be a daunting job. It takes a lot of expertise and time to find hidden backdoors and infections without breaking the website. We believe remediation tasks may not be the best use of a web provider's assets.
VI – Hardening and Patching
Hardening your website involves adding code or making changes to the server configuration to reduce the attack surface. Patching means updating extensions and themes to prevent vulnerabilities from being exploited. A WAF automatically enables virtual hardening and virtual patching.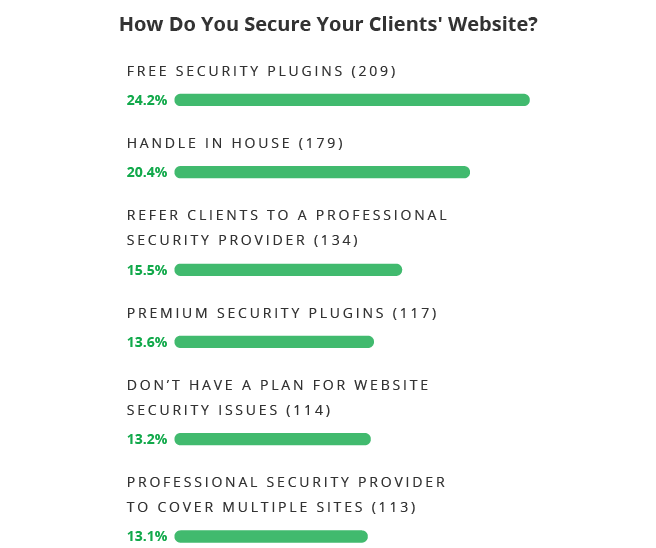 Free plugins are a good start to securing a website, however, these are best accompanied by a website firewall to block hack attempts. Sucuri has developed a free Security Plugin for WordPress.
Coming in second (20.4%), security issues are handled in house. What this means is that whenever a problem with a website arises, someone within their team will manage these events on an ad-hoc response.
Around 13% of web professionals responded that they do not have a plan for website security. This is concerning, because a security incident can result in loss of data, sales, time, and brand reputation. There can also be long-term damage to SEO rankings if the security issue is not addressed quickly.