Sucuri Guides
How to Clean a WordPress Hack
Last updated on April 16th, 2020
< Return to Guides
How to Clean a Hacked WordPress Site
Steps to removing malware, spam, and other hacks from WordPress.
Sucuri has devoted years to helping WordPress administrators identify and fix hacked websites. We have put together this guide to walk WordPress owners through the process of identifying and cleaning a WordPress hack. This is not meant to be an all-encompassing guide, but if followed, should help address 70% of the infections we see.
Fix My Site
Find & Identify the WordPress Hack
1.1

Scan Your Site

You can use tools that scan your site remotely to find malicious payloads and malware. Sucuri has a free WordPress plugin that you can find in the official WordPress repository.
If the remote scanner isn't able to find a payload, continue with other tests in this section. You can also manually review the iFrames / Links / Scripts tab of the Malware Scan to look for unfamiliar or suspicious elements.
If you have multiple WordPress sites on the same server, we recommend scanning them all (you can also use SiteCheck to do this). Cross-site contamination is one of the leading causes of reinfections. We encourage every website owner to isolate their hosting and web accounts.
1.2

Check Core WordPress File Integrity

Most core WordPress files should never be modified. You need to check for integrity issues in the wp-admin, wp-includes, and root folders.

The quickest way to confirm the integrity of your WordPress core files is by using the diff command in terminal. If you are not comfortable using the command line, you can manually check your files via SFTP.

If nothing has been modified, your core files are clean.

Both the Sucuri free WordPress security plugin and the Sucuri monitoring platform help with website auditing and monitoring.
1.3

Check Recently Modified Files

New or recently modified files may be part of the hack.

You can identify hacked files by seeing if they were recently modified with the following steps.
How to manually check recently modified files in WordPress:
Log into your server using an FTP client or SSH terminal.
If using SSH, you can list all files modified in the last 15 days using this command:

$ find ./ -type f -mtime -15

If using SFTP, review by the last modified date column for all files on the server.
Note any files that have been recently modified.
How to check recently modified files using terminal commands on Linux:
Type in your terminal:

$ find /etc -type f -printf '%TY-%Tm-%Td %TT %p\n' | sort -r .

If you want to see directory files, type in your terminal:

$ find /etc -printf '%TY-%Tm-%Td %TT %p\n' | sort -r .

Unfamiliar modifications in the last 7-30 days may be suspicious.
1.4

Check Google Diagnostic Pages

If your WordPress site has been hacked and blocklisted by Google or other website security authorities, you can use their diagnostic tools to check the security status of your website.
How to check your Google Transparency Report:
Visit the Safe Browsing Site Status website.
Enter your site URL and search.
On this page you can check:

Site Safety Details: Information about malicious redirects, spam and downloads.
Testing Details: Most recent Google scan that found malware.
If you have added your site to any free webmaster tools, you can check their security ratings and reports for your website. If you do not already have accounts for these free monitoring tools, we highly recommend that you sign up: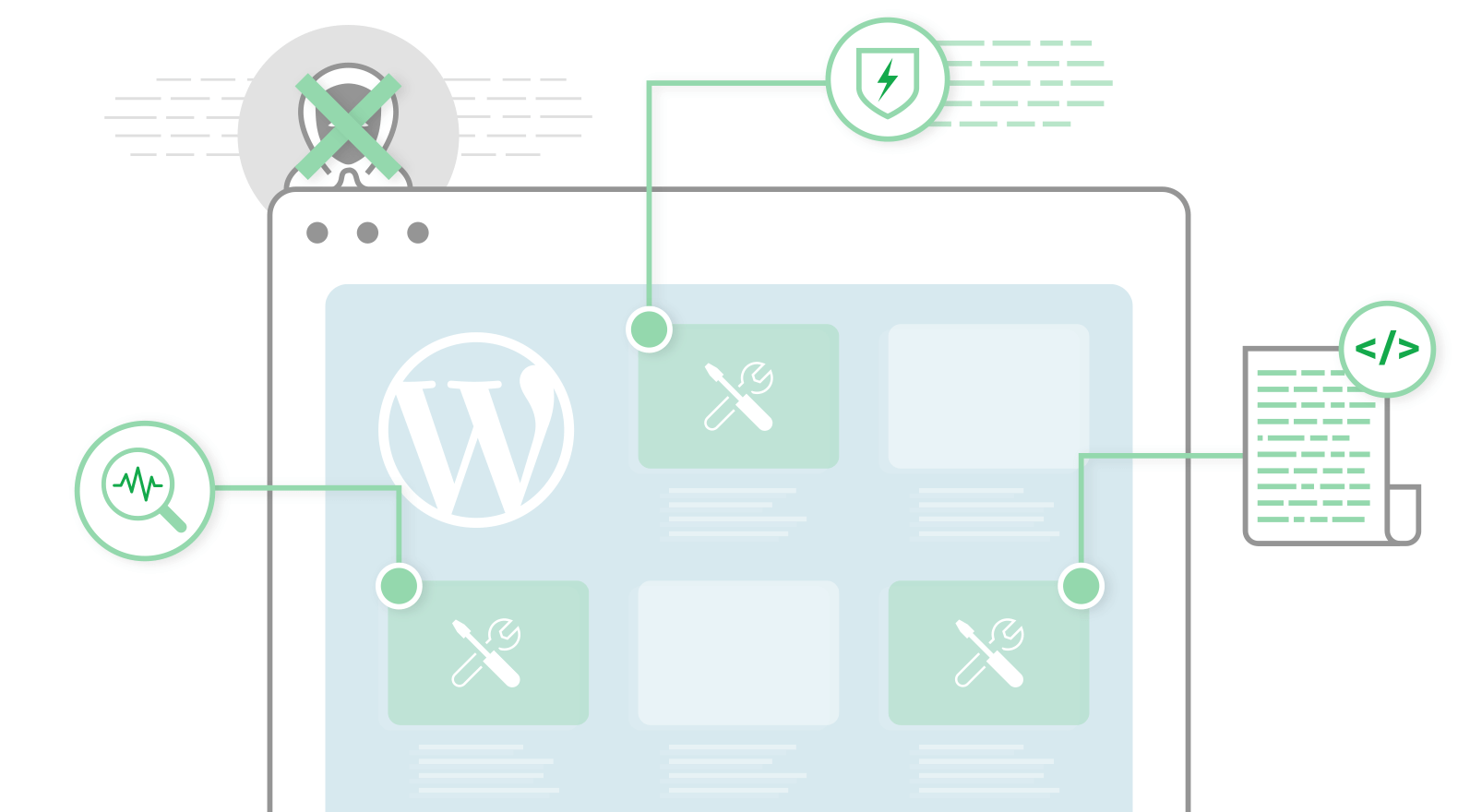 Remove Malware from Your WordPress Site
Now that you have information about malware locations, you can remove malware from WordPress and restore your website to a clean state.
2.1

Clean Hacked WordPress Files

If the malware infection is in your core files or plugins, you can fix it manually. Just don't overwrite your wp-config.php file or wp-content folder and be sure that you make a full backup beforehand..

Custom files can be replaced with fresh copies, or a recent backup (if it's not infected). Here are some additional tips & tricks that you can use with WordPress.

You can remove any malicious payloads or suspicious files found in the first step to get rid of the hack and clean your WordPress site.
How to manually remove a malware infection from your WordPress files:
Log into your server via SFTP or SSH.
Create a backup of the WordPress site before making changes.
Identify recently changed files.
Confirm the date of changes with the user who changed them.
Restore suspicious files with copies from the official WordPress repository.
Open any custom or premium files (not in the official repository) with a text editor.
Remove any suspicious code from the custom files.
Test to verify the site is still operational after changes.
2.2

Clean Hacked Database Tables

To remove a malware infection from your WordPress database, use your database admin panel to connect to the database. You can also use tools like Search-Replace-DB or Adminer.
How to manually remove a malware infection from your WordPress files:
Log into your database admin panel.
Make a backup of the database before making changes.
Search for suspicious content (i.e., spammy keywords, links).
Open the table that contains suspicious content.
Manually remove any suspicious content.
Test to verify the site is still operational after changes.
Remove any database access tools you may have uploaded.
Beginners can use the payload information provided by the malware scanner. Intermediate users can also manually look for common malicious PHP functions, such as eval, base64_decode, gzinflate, preg_replace, str_replace, etc.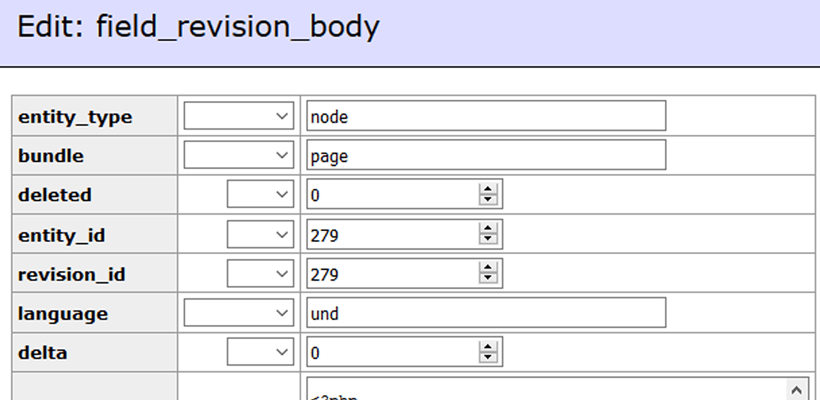 2.3

Secure WordPress User Accounts

If you noticed any unfamiliar WordPress users in your website, remove them so the hackers no longer have access through them. We recommend having only one admin user and setting other user roles to the least amount of privileges needed for the task that needs to be carried out by that person (ie. contributor, author, editor).
How to manually remove suspicious users from WordPress:
Backup your site and database before proceeding.
Log into WordPress as an admin and click Users.
Find the suspicious new user accounts.
Hover over the suspicious user and click Delete.
If you believe any of your user accounts were compromised you can reset their passwords. One of the ways to do that is using the Sucuri WordPress plugin.
2.4

Remove Hidden Backdoors in Your WordPress Site

Hackers always leave a way to get back into your site. More often than not, we find multiple backdoors of various types in hacked WordPress sites.

Often backdoors are embedded in files named similar to WordPress core files but located in the wrong directories. Attackers can also inject backdoors into files like wp-config.php and directories like wp-content/themes, wp-content/plugins, and wp-content/uploads.
Backdoors commonly include the following PHP functions:

base64
str_rot13
gzuncompress
eval
exec
system
assert
stripslashes
preg_replace (with /e/)
move_uploaded_file
These functions can also be used legitimately by plugins, so be sure to test any changes because you could break your site by removing benign functions or by not removing all of the malicious code.
The majority of malicious code we see in WordPress sites uses some form of encoding to prevent detection. Aside from premium components that use encoding to protect their authentication mechanism, it's very rare to see encoding in the official WordPress repository.
It is critical that all backdoors are closed to successfully stop a WordPress hack, otherwise your site will be reinfected quickly.
2.5

Remove Malware Warnings

If you were blocklisted by Google, McAfee, Yandex (or any other web spam authorities), you can request a review after your WordPress site has been cleaned and the hack has been fixed.
How to remove malware warnings on your site:
Call your hosting company and ask them to remove the suspension if your website has been suspended by your hosting provider.

You may need to provide details about how you removed the malware.

Fill in a review request form for each blocklisting authority.

ie. Google Search Console, McAfee SiteAdvisor, Yandex Webmaster.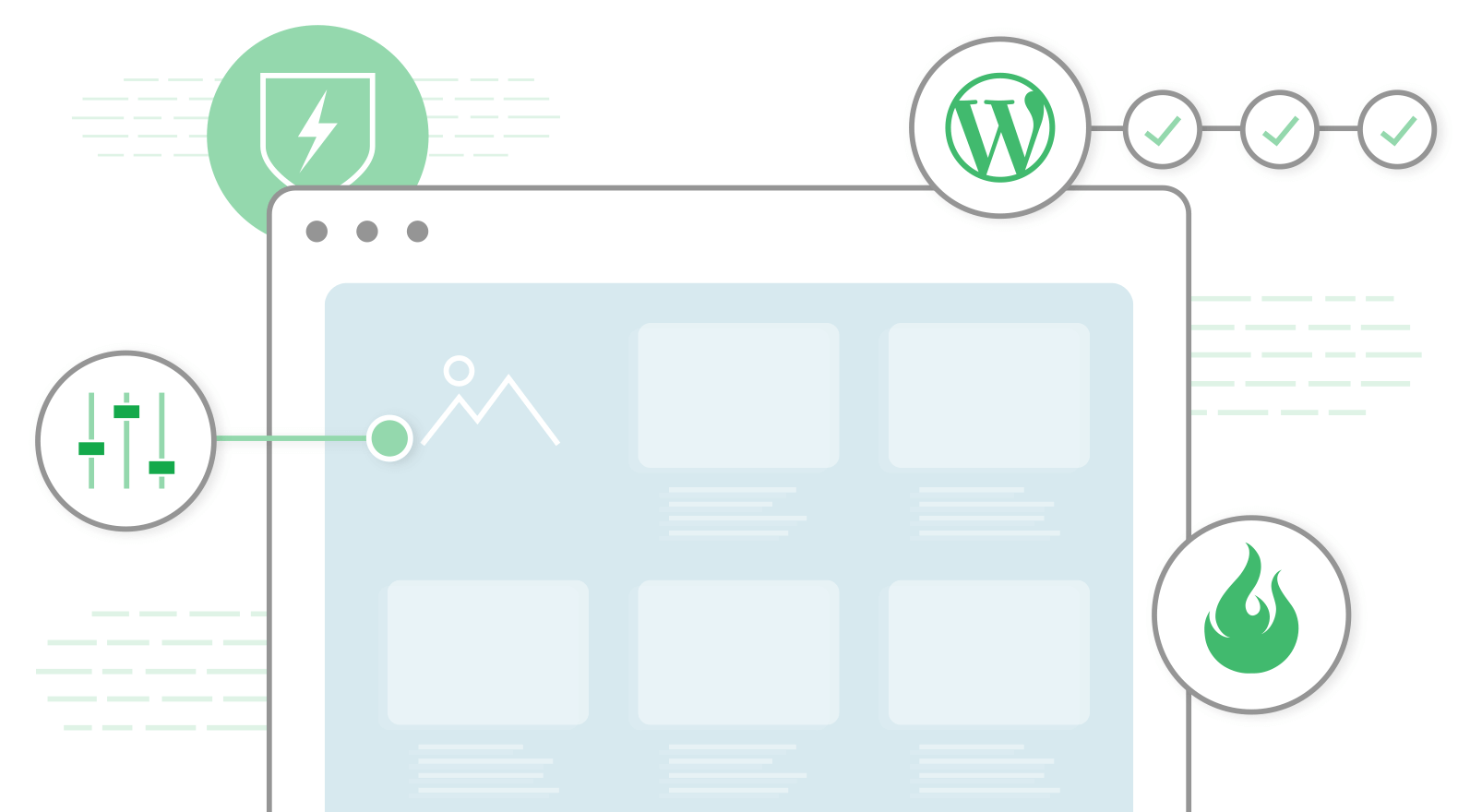 Protect Your WordPress Site From Future Hacks
In this final step, you will learn how to fix the issues that caused your WordPress to be hacked in the first place. You will also perform essential steps to enhance the security of your WordPress site.
3.1

Update and Reset Configuration Settings

Out-of-date software is one of the leading causes of infections. This includes your CMS version, plugins, themes, and any other extension type. Potentially compromised credentials should also be reset to ensure you are not reinfected.
How to manually apply updates in WordPress:

Log into your server via SFTP or SSH.
Backup your website and database (especially customized content).
Manually remove the wp-admin and wp-includes directories.
Replace wp-admin and wp-includes using copies from the official WordPress repository.
Manually remove and replace plugins and themes with copies from official sources.
Log into WordPress as an admin and click Dashboard > Updates.
Apply any missing updates.
Open your website to verify it is operational.

Reset User Passwords
It is critical that you change passwords for all access points to your WordPress site. This includes WordPress user accounts, FTP/SFTP, SSH, cPanel, and your database.
You should reduce the number of admin accounts for all of your systems to the absolute minimum. Practice the concept of least privilege. Only give people the access they require to do the job they need for just as long as they need it.
Generate New Secret Keys
Once the passwords are reset, you can force all users to log off using our plugin. WordPress uses browser cookies to keep user sessions active for two weeks. If an attacker has a session cookie, they will retain access to the website even after a password is reset. To fix this, we recommend forcing active users off by resetting WordPress secret keys.
How to generate new secret keys in the wp-config.php file using Sucuri:
Open the WordPress wp-config.php file.
Add a value of 60+ unique characters for each key and salt.
You can use a secret key generator.
Save the wp-config.php file.
It is advisable to reinstall all plugins after a hack to ensure they are functional and free of residual malware. If you have deactivated plugins we recommend you remove them from your web server altogether.
To To reset your plugins using the Sucuri WordPress plugin:
3.2

Harden WordPress

To harden a server or application means that you take steps to reduce the attack surface or entry points for attackers. WordPress and its plugins can be harder to hack when you take these steps.
How to harden WordPress, you can use the Sucuri plugin:
There are countless ways to harden WordPress depending on your needs. We recommend reviewing the WordPress Codex if you want to research additional hardening methods. See the Website Firewall section below for more information about how we offer virtual patching and hardening.
3.3

Set Backups for your WordPress Site

Backups function as a safety net. Now that your WordPress site is clean and you've taken some important post-hack steps, make a backup! Having a good backup strategy is at the core of a good security posture.
Here are some tips to help you with WordPress backups:
Location

Store WordPress backups in an off-site location. Never store backups (or old versions) on your server; they can be hacked and used to compromise your real site.

Automatic

Ideally, your backup solution should run automatically at a frequency that suits the needs of your website.

Redundancy

This means that your backup strategy has to include redundancy, or in other words, backups of your backups.

Testing

Try the restore process to confirm your website functions correctly.

File Types

Some backup solutions exclude certain file types such as videos and archives.
3.4

Scan Your Computer

Have all WordPress users run a scan with a reputable antivirus program on their operating systems.

WordPress can be compromised if a user with an infected computer has access to the dashboard. Some infections are designed to jump from a computer into text editors or FTP clients.
Paid Antivirus Programs:

Bitdefender
Kaspersky
Sophos
F-Secure.

Free Antivirus Programs:
3.5

Use a Website Firewall

The number of vulnerabilities exploited by attackers grows every day. Trying to keep up is challenging for administrators. Website Firewalls were invented to provide a perimeter defense system surrounding your WordPress site.
Benefits to using a website firewall:

Prevent a Future Hack

By detecting and stopping known hacking methods and behaviors, a website firewall keeps your site protected against infection in the first place.

Virtual Security Update

Hackers quickly exploit vulnerabilities in plugins and themes, and unknown ones are always emerging (called zero-days). A good website firewall will patch your holes in your website software even if you haven't applied security updates.

Block Brute Force Attack

A website firewall should stop anyone from accessing your wp-admin or wp-login page if they aren't supposed to be there, making sure they can't use brute force automation to guess your password.

Mitigate DDoS Attack

Distributed Denial of Service attacks attempt to overload your server or application resources. By detecting and blocking all types of DDoS attacks, a website firewall makes sure your site is available if you are being attacked with a high volume of fake visits.

Performance Optimization

Most WAFs will offer to cache for faster global page speed. This keeps your visitors happy and is proven to lower bounce rates while improving website engagement, conversions, and search engine rankings.
WordPress Hacks FAQ
How do WordPress sites get hacked?
Malicious users crawl the internet looking for vulnerable WordPress sites to hack. If your website is not protected with a WordPress firewall and if you do not follow WordPress security best practices, your website can become a victim.
How do I scan WordPress plugins for malware?
You can use SiteCheck to scan your WordPress site for malware for free. We highly recommend updating all WP plugins regularly and that you remove all plugins that are not being actively used. Sucuri also offers a complete website security platform in which you will find website monitoring, protection, and response.
How do I find malicious code in WordPress?
You can use SiteCheck to scan your WordPress site for malicious code for free. We recommend reinstalling your core files with a fresh copy if you suspect there is malware in your WordPress website. If you want to be sure that your website is clean, you can sign up to Sucuri and submit a malware removal request.
How do I protect my WordPress site from malware?
You can secure your WordPress site by following website security best practices, such as:
Having a WordPress firewall
Using the latest version of WordPress, plugins, themes and third-party services
Enforcing strong password requirements
Only granting the type of access that someone needs