WordPress Web Application Firewall (WAF)
Protect and Speed Up Your WordPress Website
Features and Benefits
Get WordPress protection and increased performance with a professional team to help.
Protection
The WordPress Firewall is a cloud-based WAF that stops website hacks and attacks. Our constant research improves detection and mitigation of evolving threats, and you can add your own custom rules.
Instantly Block Hackers
DDoS Mitigation and Prevention
Virtual Patching and Hardening
Protect Brand Reputation
Prevent Zero-Day Exploits
Learn About Protection
Performance
Our CDN makes your site faster and highly available across the world. Built on our global network of secure data centers, visitors, customers, and search engines will notice a dramatic improvement.
Smart Caching Options
Fast HTTP/2 Support
Resource Optimization via GZIP Compression
Reduced Server Load
Works with Other CDNs
Learn About Performance
About the WordPress Security Platform
What is the Sucuri Platform?
Sucuri is a managed security service provider for websites. Our cloud-based platform gives you complete website security, including a WordPress antivirus and firewall for your website.
What does it do?
We monitor for security incidents, fix website hacks, and protect your site to keep hackers out. The platform also keeps your website running fast and ensures operational continuity.
Who is it for?
Any website owner or business that wants to stop worrying about website security and have it managed on their behalf by trusted and experienced professionals.
Who is it not for?
Website owners and server administrators who prefer to develop and implement their own DIY approach to website protection, monitoring, and remediation.
The Sucuri Advantage
Industry Leading Research
We extensively research website hacks and build security tools that respond to a constantly evolving world of cyber threats.
Protect Your Website
Built for Your Website
Whether it has a CMS or custom code, your web server and database are safe with us.
Learn More
Easy Setup
No complicated configuration or installation. You can set it and forget it, or customize freely. We are here to help you at every step.
Getting Started
X
Security for Every Website
CMS
WordPress
Magento
Joomla!
Drupal
Prestashop
WooCommerce
Umbraco
OpenCart
osCommerce
Zen Cart
Spree Commerce
JigoShop
VirtueMart
… and more.
Server Software
Apache
Nginx
Microsoft (IIS)
Oracle (Sun Microsystems)
Google Web Services (GWS)
Amazon Web Services (AWS)
NCSA
cPanel
Plesk
MySQL
MariaDB
Oracle Database
Microsoft SQL Server
SQLite
… and more.
X
Getting Started is Easy
To safely clean up WordPress hacks, we need a login to your web server or hosting account.
With our basic monitoring system, no code or installation is required. Just type your web address and go.
Our recommended server side scanner is a PHP script that finds additional hidden malware.
For protection, a simple DNS change activates our WordPress WAF (Website Application Firewall), which filters out malicious traffic.
At the same time, reap the benefits of faster performance with our secure content delivery network.
Sucuri Dashboard Setup Tour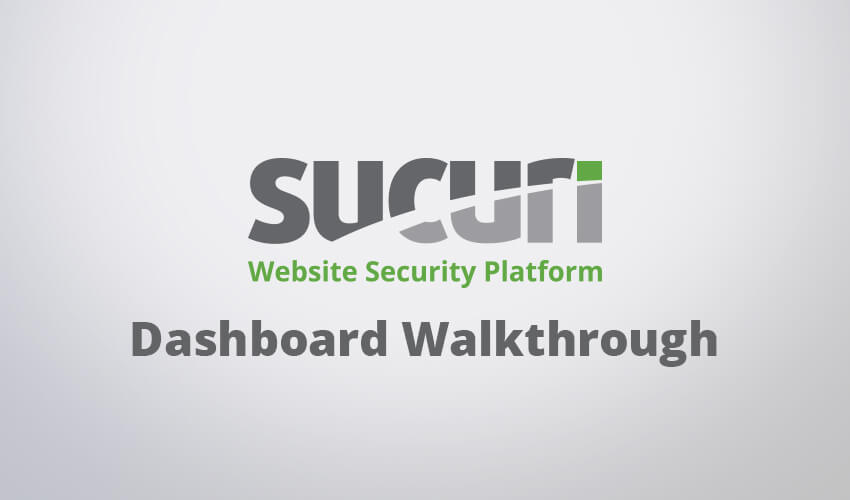 Is Your WordPress Site Hacked or Blocklisted?
You can scan your site for free with our website security scanner, SiteCheck. Remote scanners are limited to detecting payloads visible in your website source code. If you are looking for a DIY solution, you can follow the steps of the How to Clean a Hacked WordPress Guide or read the best practices tips on the WordPress Security Guide. If you need help with incident response and more thorough detection, try the full Sucuri Platform.
Solutions for Larger Organizations
Increased Performance with the WordPress CDN
The WordPress Firewall runs on a Globally Distributed Anycast Network, built and managed by the Sucuri team. Your site benefits from high availability and redundancy in the event of network failure.
We focus on useful metrics to optimize speed, like total time, not first byte or server response time. Our growing network outperforms competitors and offers all the servers you need to get optimal speed and performance.
The platform is supported by our Security Operations Center (SOC), providing 24/7/365 monitoring and response to all attacks.
Improve speed with caching and content delivery network (CDN)
Mitigate Distributed Denial-of-Service (DDoS) attacks
Prevent hacks and vulnerability exploit attempts
Protect against the OWASP Top 10 (and more)
Stop brute force attempts against your website login pages
Leverage geographic load balancing and reliable uptime
The WordPress antivirus requires no installation.
You can activate it with a simple DNS change, or our team can do it for you.
Sucuri Website Security Platfom
The WordPress Firewall only offers protection. Upgrade to the full Sucuri Platform to gain instant alerts, integrity and uptime monitoring, critical malware and blocklist detection, and unlimited hack cleanup.
Trusted by Tens of Thousands of Website Owners
Don't take our word for it. See what website owners like you have to say:
View Testimonials & Case Studies
See More