Why Sucuri
24/7/365 Support
Quick Response
Technical Expertise
Ease of Use
Favorite Features
Remediation
Live Chat
Website Monitoring
Web Application Firewall
S. Chris Edmonds is a speaker, author and executive consultant. Chris founded his consulting firm – The Purposeful Culture Group– in 1990. He has also served as a senior consultant with the Ken Blanchard Companies since 1995. Chris has helped hundreds of companies from a wide range of industries create high performing, values-aligned cultures over the years.
Chris' latest book, The Culture Engine, presents his proven framework – formalizing a team or company's purpose, values and behaviors, strategies, and goals in an organizational constitution.
When leaders align behaviors and practices to their organizational constitution, amazing things happen. Employee engagement goes up (by 40 percent or more). Customer service goes up (by 40 percent or more). Results and profits go up (by 35 percent or more) – all within 18-24 months of engaging in their culture refinement.
The Website Presence
This business displays itself online to an environment consisting of a mix of websites based on the WordPress platform.
I had five websites – my main blog/podcast/business/store site, my music site, my book site, my positivity-works site, and my culture leadership roundtable site. All are WordPress sites, current version is 4.2.3, they are auto-updated through WP, using the WooThemes Canvas theme. My hosting provider is BlueDomino. I have no idea about the server specs! I shut down the positivity-works site in April – which you'll learn more about below.
Chris had a multitude of online presences that needed attention. With all the activity that Chris was doing, he found himself facing a business problem when some of his customers noticed there was something wrong with one if his websites. No one needs such news in December, as everyone is thinking about holiday gifts and people like to focus on quality family time.
Dark Clouds and Trouble in December
However, for Chris, the troubles had just started when he received this strange news from several of his clients:
On December 17, 2014, I received emails from two clients about two issues on my main website, drivingresultsthroughculture.com. First, the RSS feed was no longer working. Their feed validator indicated this error:

line 239, column 0: XML parsing error: :239:0: junk after document element.

Second, there was a hyperlinked text line underneath my main photo header that read, "viagra professional scam." Both clients sent me screen shots: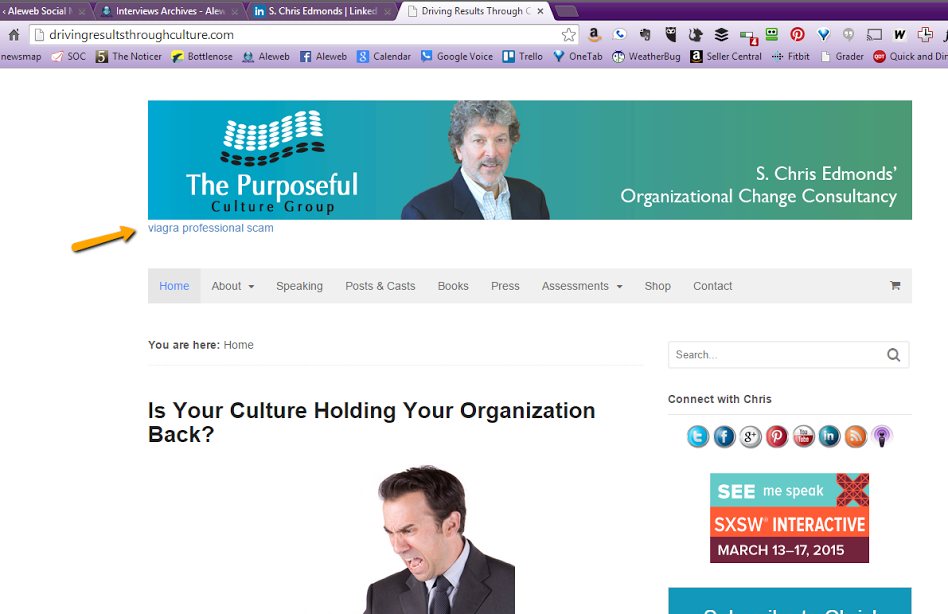 Dark Clouds and Trouble in December
At the same time another client dug into my site source and found the description had been changed: That same client in the email with the two above images said, "According to Sucuri's site checker, you don't have any malware on board."
This was the first time Chris heard of Sucuri and he became curious.
At about the same time, he received an email from his web host indicating they had found malware in some of his WordPress installations. The worst case scenario for any business happened: they suspended his account, thus shutting down all five websites. It meant that all his online businesses were now offline, no longer visible to clients and prospects, rendering his online presence invisible. Even the Google searches were pointing to 404 "website not found" errors.
Chris knew he was in big trouble. His book, The Culture Engine, had been launched barely six weeks before and the whole campaign was still in major marketing mode. This was a big problem, as Chris recalls:
To have my main site and my book site pulled down was a huge issue.
Website Security is Not DIY
As most people do, he initially tried to fix the problems himself.
My hosting provider indicated what files were infected, so I started cleaning them up. I began doing some other research and found this link about the SoakSoak malware campaign which caused Google to blocklist 100,000 WordPress sites. In this article, Daniel Cid from Sucuri was quoted as saying a photo slider plugin was the culprit. That compromised plugin (a part of many photo plugins, including the NexGen plugin I was using) was how sites were being infected. So, Sucuri was top of mind as I was scouring my WP folders at my hosting provider for the infected files. I spent nine hours on December 14th cleaning up those files on my main website.
On the same day, Chris purchased Sucuri's CloudProxy Firewall package for his main website, 'Driving Results Through Culture', while also changing the photo slider plugin he was using to an alternative.
After making sure that his website backups were up to date – but not restorable, alas – he purchased a WordPress cloning software solution on December 15, 2014 to solve the problem.
When his web host suspended another one of his websites because of a new malware infection, he shut down that site completely by deleting the entire installation. Chris became frustrated for not having added the CloudProxy firewall to all five sites:
I quickly added the firewall to my remaining four sites that day – then started looking at the Malware Removal option.
Real People. Real Security.
Chris reached out to Sucuri's sales staff and upgraded his subscription to the new Sucuri Platform plan. Now he was sure his online businesses were safely protected, and he gained peace of mind.
I had the best protection package for my sanity.
Looking back at that moment, Chris remembers not having any issues since:
I have had no issues since. None. It's cool to see how many attacks my remaining four sites still attract each day – but your firewall remains firm. I can see the Sucuri Platform monitoring "live" – I know when the last daily scan occurred and can see if any issues (blocklisting, compromised files, etc.) have been found. They never have – so far.
From a business impact standpoint, the protection we offer lets him sleep at night knowing that Sucuri "has his back" with keeping his sites safe and performing well.
My websites are my "live billboards," the visible evidence of my content, my expertise, and my services around the globe. If my billboards are dark, at any time, I'm losing business. You all make me happy.
If you find yourself in a situation where you are experiencing malware or even blocklisting on your websites, instead of spending hours like Chris, away from your business or family, let Sucuri take the heat. We're really good at it. Let us worry, dig and find the problems, clean them and restore your website, your business and your peace of mind.
When we're around, hacked websites and malware files have a tendency to run and never come back. We detect and destroy all malware. If they ever attempt to attack you again, our protective Website Application Firewall (WAF) will cut them to pieces.
Try us today and then come back and let us know your story. We'd be happy to feature it here on our Customers page. Get real security, by real people.
Note: Many of our loyal customers are part of our referral program and earn money by referring new customers to Sucuri. It is our goal to provide such excellent service that you want to share it with others. Learn more about our referral program or contact us if you wish to be featured in a case study!
WHY SUCURI?
Thought Leaders in Website Security
Sucuri has been involved specifically in the website security space over 6 years, analyzing what attackers do and how they do it. This knowledge is at the core of how the technology is built.
Simple Deployment
There is no installation required, the technology is quickly enabled via the Sucuri dashboard and at the DNS level. Changes can be made via an A record switch, or full DNS management.
Active Vulnerability Research
Sucuri's research is second to none when it comes to vulnerability exploit attempts. Our research is widely distributed and syndicated across all major media and security outlets.
Enterprise Affordability
Budgets are tight, demand is high. Sucuri has the luxury of size and youth, we bring the right level of enthusiasm, adaptability, and technology to the enterprise website security game.
Get Complete Website Security
$299.99/year
As low as $24.99/month
Billed Annually
Secure Now