Injection
A code injection happens when an attacker sends invalid data to the web application with the intention to make it do something that the application was not designed/programmed to do.
Perhaps the most common example around this security vulnerability is the SQL query consuming untrusted data. You can see one of OWASP's examples below:
String query = "SELECT * FROM accounts WHERE custID = '" + request.getParameter("id") + "'";
This query can be exploited by calling up the web page executing it with the following URL: http://example.com/app/accountView?id=' or '1'='1 causing the return of all the rows stored on the database table.
The core of a code injection vulnerability is the lack of validation and sanitization of the data used by the web application, which means that this vulnerability can be present on almost any type of technology.
Anything that accepts parameters as input can potentially be vulnerable to a code injection attack.
We've written a lot about code injection attacks. One of the most recent examples is the SQL injection vulnerability in Joomla! 3.7.
Here is another example of an SQL injection that affected over half a million websites that had the YITH WooCommerce Wishlist plugin for WordPress: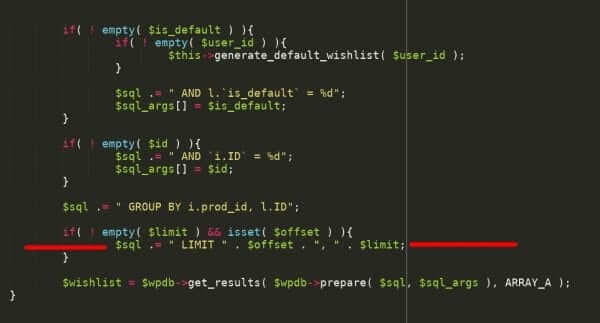 The SQL injection shown above could cause a leak of sensitive data and compromise an entire WordPress installation.
How do you prevent code injection vulnerabilities?
Preventing code injection vulnerabilities really depends on the technology you are using on your website. For example, if you use WordPress, you could minimize code injection vulnerabilities by keeping it to a minimum of plugin and themes installed.
If you have a tailored web application and a dedicated team of developers, you need to make sure to have security requirements your developers can follow when designing and writing software. This will allow them to keep thinking about security during the lifecycle of the project.
Here are OWASP's technical recommendations to prevent SQL injections:
Preventing SQL injections requires keeping data separate from commands and queries.
The preferred option is to use a safe API, which avoids the use of the interpreter entirely or provides a parameterized interface or migrate to use Object Relational Mapping Tools (ORMs). Note: Even when parameterized, stored procedures can still introduce SQL injection if PL/SQL or T-SQL concatenates queries and data, or executes hostile data with EXECUTE IMMEDIATE or exec().
Use positive or "whitelist" server-side input validation. This is not a complete defense as many applications require special characters, such as text areas or APIs for mobile applications.
For any residual dynamic queries, escape special characters using the specific escape syntax for that interpreter. Note: SQL structure such as table names, column names, and so on cannot be escaped, and thus user-supplied structure names are dangerous. This is a common issue in report-writing software.
Use LIMIT and other SQL controls within queries to prevent mass disclosure of records in case of SQL injection.
From these recommendations you can abstract two things:
Separation of data from the web application logic.
Implement settings and/or restrictions to limit data exposure in case of successful injection attacks.
Without appropriate measure in place, code injections represent a serious risk to website owners. These attacks leverage security loopholes for a hostile takeover or the leaking of confidential information.