Drupal Site Post Hack Steps
In this final step, you will learn how to fix the issues that caused your Drupal hack in the first place. You will also perform essential steps to enhance the security of your Drupal site.
Update and Reset
Outdated software is one of the leading causes of Drupal getting hacked, and it is important to remove any known vulnerable extensions. Though Drupal uses a secure hashing algorithm to prevent passwords from being hacked, it's always a good idea to reset passwords to ensure you are not reinfected if hackers gained access to your credentials.
Clear Active Sessions
If a user account has been compromised it's important to log them out and force a password reset so they lose access to your site. The sessions table in your Drupal database keeps a record of every user login and you can remove them.
To clear active Drupal user sessions:
Log into your database admin panel.
Open the sessions table.
Select Empty to remove all logs from the table.
All users will now be logged out.
Reset API Keys
Your API keys in Drupal should be reset to ensure they have not been compromised by the attackers. Additionally, if your website connects to external services (such as marketing services, payment gateways, and shipping providers) it is a good idea to create new API keys created for those services.
We recommend using the Key module along with Lockr to ensure keys are managed offsite.
Update Drupal Core and Extensions
Update all Drupal software including core files, themes, and modules.
To check and update Drupal extensions:
Make sure you have a recent backup of your site.
Log into your Drupal admin interface.
Click Reports on the menu item and check Available updates.
Note any available updates and check for any module-specific update instructions.
To update Drupal software we recommend using Drush:
Log into your server using an SSH terminal and run the command: drush up
Follow the interface to select core and modules to update.
Test your site to ensure the updated modules did not break any functionality.
If using version control, commit and push the new code.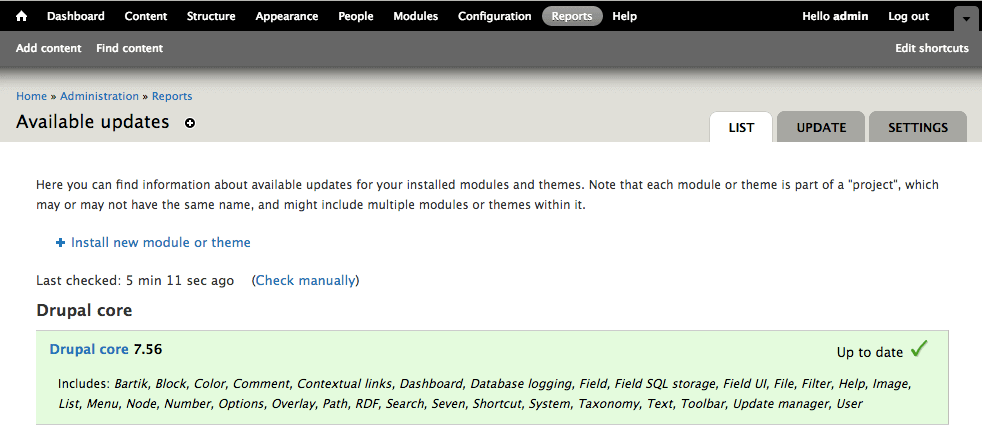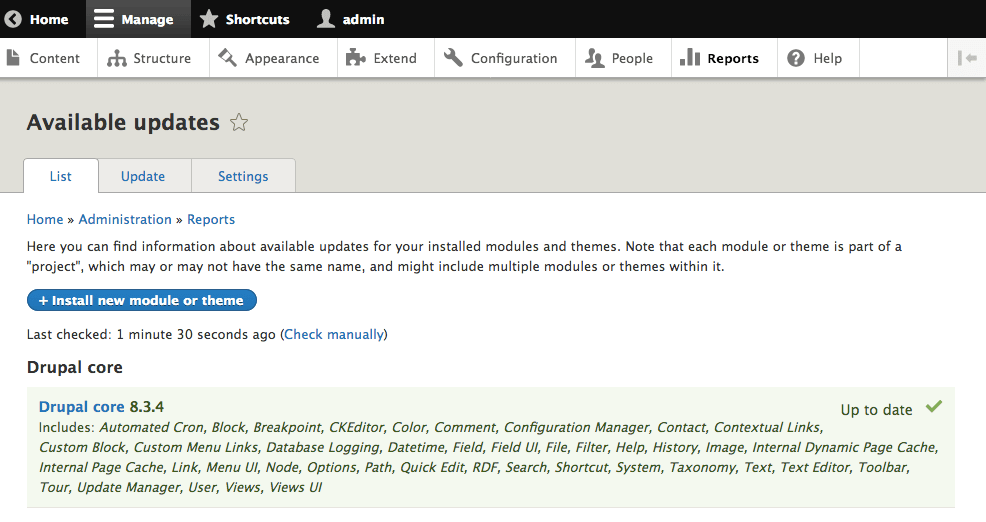 Drupal 8.x is where all new developments in core are happening. Drupal 7.x continues to receive updates for known vulnerabilities. We recommend keeping an eye on the Drupal Security page for security alerts. Users on the 6.x branch or lower are no longer receiving security patches and strongly encouraged to upgrade to 8.x by following the Drupal Upgrade Docs.
If SiteCheck identified other outdated software on your server (i.e., Apache, cPanel, PHP) in the first step of this guide, you should update those to ensure you have any available security patches.
If you cannot patch, consider activating a website application firewall to virtually patch your site.
If you are manually updating core files, follow the official upgrade docs for Drupal 8 and Drupal 7.
To manually update Drupal core files:
Make sure you have a recent backup of your site.
Click Configuration on the menu under Development select Maintenance mode.
Delete everything except for the sites folder and custom files.
Upload the new Drupal files, taking care not to overwrite custom files.
Run the update.php file in your browser.
Switch the site out of Maintenance mode and test.
Caution
Be careful not to overwrite the settings.php file (in /sites/default) file as this will break your site!
Clear Cache
Once you are sure everything has been cleaned and updated, as with any update to your site, you should clear the Drupal cache so the latest version of your site is visible to everyone. We recommend using Drush commands drush cache-rebuild (Drupal 8) or drush cache-clear all (Drupal 7).
To manually clear the Drupal cache:
Log into your Drupal website.
Click Configuration on the menu.
Under Development click Performance.
Click the Clear all caches button.
Reset User Credentials
You should reset all user passwords with unique, strong passwords to avoid reinfection.
To reset passwords for Drupal user accounts:
Log into your Drupal administrator area.
Click People on the menu.
Click the Edit button under the Operations column for each user.
Change the user's password.
Repeat for each user on your site.
You should reduce the number of administrator and super-administrator accounts for Drupal security and all of your website systems. Practice the concept of least privileged. Only give people the access they require to do the job they need.
Keep in mind that the first user created by Drupal during installation (User 1) is the most powerful user in the system. It has permissions above even administrators. Because of this it should not be regularly used. Instead, every administrator should have their own unique account so you can limit admin permissions.
To update Drupal software we recommend using Drush:
Log into your server using an SSH terminal and run the command: drush up
Follow the interface to select core and modules to update.
Test your site to ensure the updated modules did not break any functionality.
If using version control, commit and push the new code.
All accounts should use strong passwords – complex, long, and unique. We recommend using password manager and generators to simplify the process.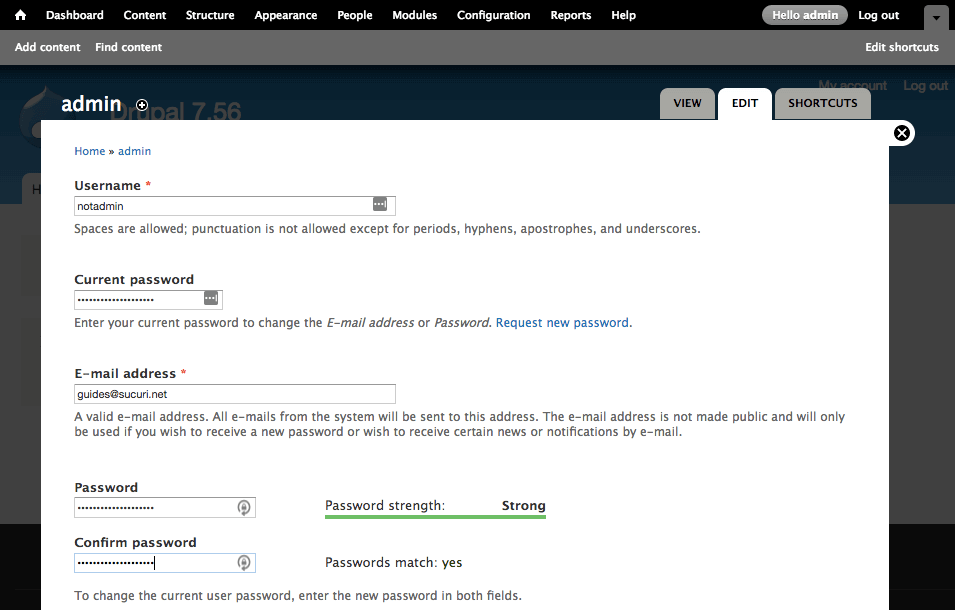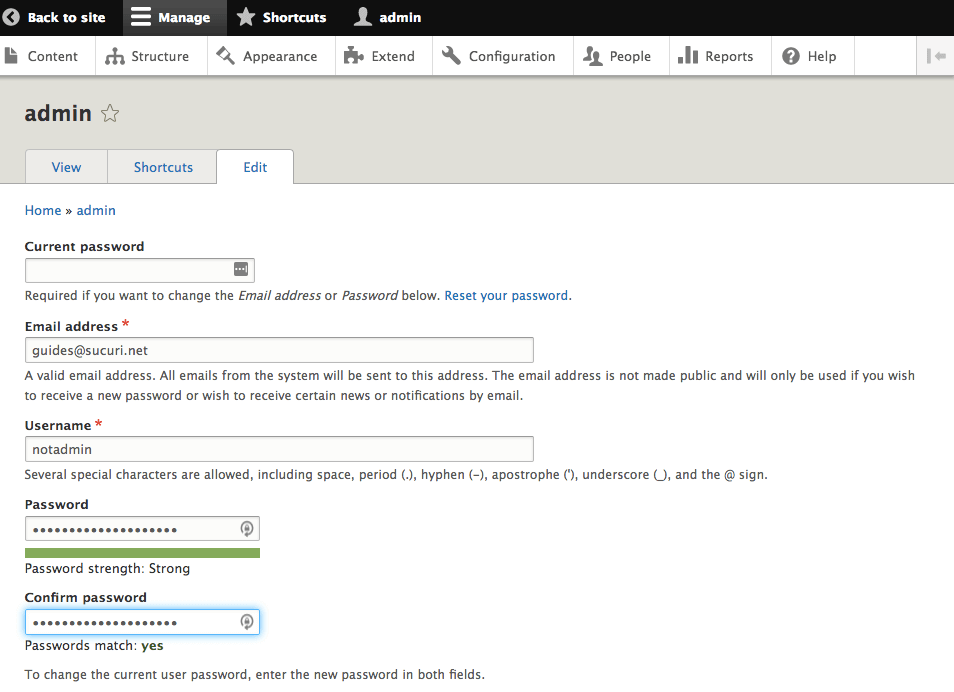 Set Drupal Backups
Backups function as a safety net. Now that your previously hacked Drupal site is clean and you've taken some important post-hack steps, make a backup! Having a good backup strategy is at the core of a good security posture.
For more information, review the Drupal Backup Docs. There are also some great free Drupal backup tools such as Node Squirrel.
Here are some tips to help you with with Drupal site backups:To reset passwords for Drupal user accounts:
Location: Store Drupal backups in an off-site location. Never store backups (or old versions) on your server; they can be hacked and used to compromise your real site.
Automation: Ideally, your backup solution should run automatically at a frequency that suits the needs of your website.
Redundancy: Store your backups in multiple locations (cloud storage, your computer, external hard drives).
Testing: Try the restore process to confirm your website functions correctly.
File Types: Some backup solutions exclude certain file types such as videos and archives.
Scan Your Computer
Have all Drupal users run a scan with a reputable antivirus program on their operating systems.
Drupal security can be compromised if a user with an infected computer has access to the dashboard. Some Drupal hacks are designed to jump from a computer into text editors or FTP clients.
Here are some antivirus programs we recommend:
Paid: BitDefender, Kaspersky, Sophos, F-Secure.
You should have only one antivirus actively protecting your system to avoid conflicts. If your Drupal Dashboard user's computers are not clean, your site can get reinfected easily.
Protect Your Drupal Site
You can harden your Drupal site by restricting file permissions and implementing custom .htaccess or nginx.conf rules. We recommend reviewing the Drupal Security Docs to learn how.
There are a number of modules and toolsx that can help you protect your Drupal site and prevent a future hack. Many are free and can make it easier to manage specific aspects of website security. A good website security plan includes protection, monitoring, and response.
Drupal protection resources:
Drupal is a complex and highly extensible CMS, and software vulnerabilities are difficult to predict. Trying to keep up with security patches is challenging for administrators. Website application firewalls provide a perimeter defense system surrounding your website and blocking malicious requests. Trying to keep up is challenging for administrators.
Benefits of using a website firewall:
Prevent a Future Hack
By detecting and stopping known hacking methods and behaviors, a website firewall keeps your site protected against infection in the first place, including the OWASP Top 10 vulnerabilities.
Virtual Security Update
Known vulnerabilities are constantly being exploited, and new zero-day attacks are always emerging. A good website firewall will virtually patch and harden your holes in your website software even if you can't apply security updates in time.
Block Brute Force Attack
A website firewall should stop anyone from accessing your Drupal admin interface if they aren't supposed to be there, making sure they can't use brute force automation to guess your user passwords.
Mitigate DDoS Attack
Distributed Denial of Service (DDoS) attacks attempt to overload your server or web application resources. By detecting and blocking all types of DDoS attacks, a website firewall ensures availability and uptime.
Performance Optimization
Most WAFs will offer a CDN caching for faster global page speed. This keeps your visitors happy and is proven to lower bounce rates while< improving website engagement, conversions, and search engine rankings.
If you would like help protecting your website, we are available to chat with you about the benefits of using a website application firewall.
After taking steps to secure your Drupal site against future hacks, be sure to keep a record along with your mitigation and identification steps.
Please share this guide if you found it useful and help promote website security education to other website owners. Let us know if you have suggestions to improve this guide in the future.