Hacked site? Google warnings? We can help.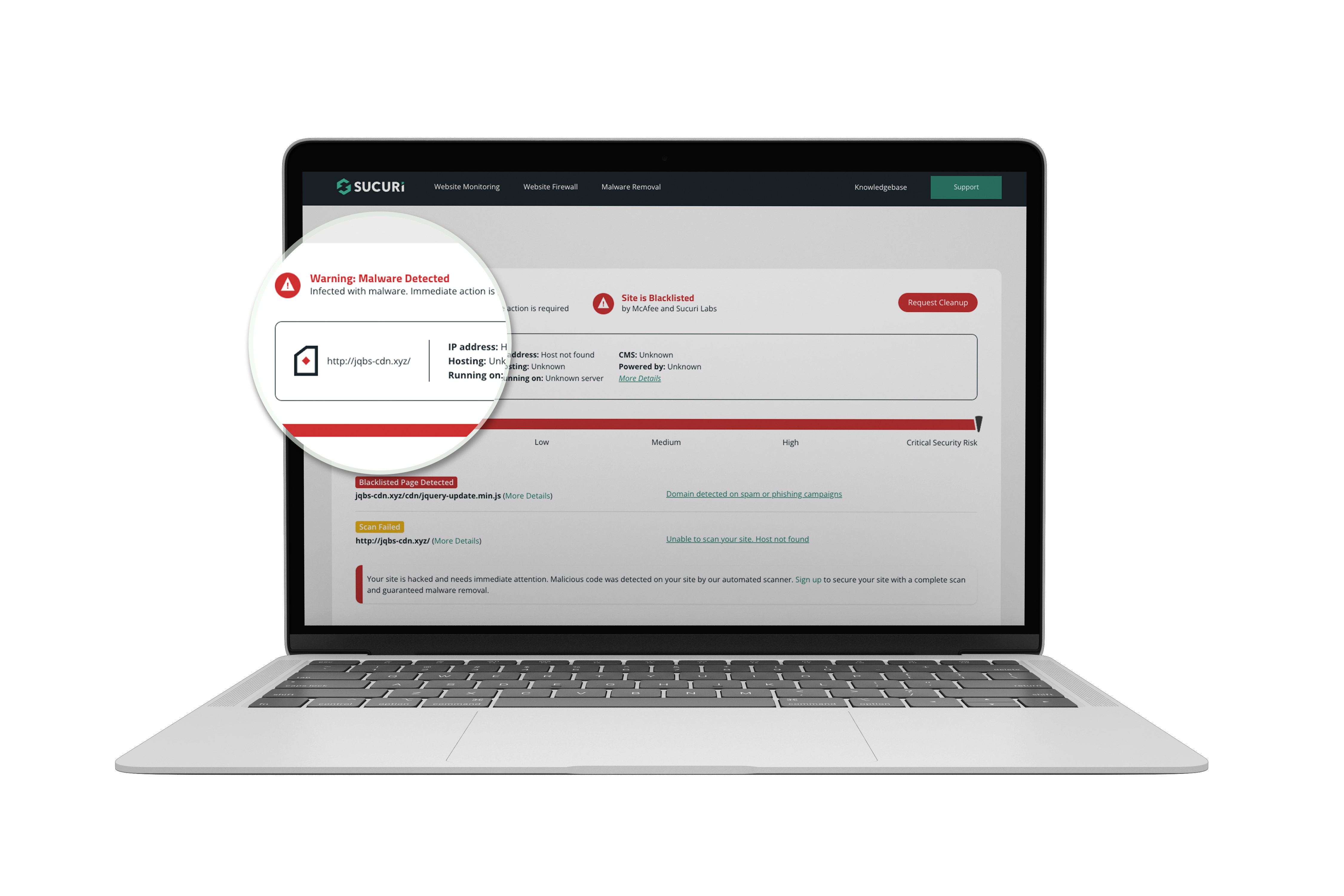 Designed for all platforms and custom sites
Quick and effective solutions for hacked websites.
Expert Analysis & Assistance
Our dedicated team of security analysts works relentlessly to eliminate all forms of malware, SEO spam, and backdoors from your website.
Cutting-Edge Malware Scanning
Robust scanning engines examine your site every 30 mins for malware, blocklisting and indicators of compromise.
Entirely remove malicious code, malware injections, and backdoors from your database, server, and website files.
Hardening techniques and virtual patching shield your website environment from security threats and known vulnerabilities.
Unrivaled Login Page Protection
Block bad bots and brute force attacks on your admin panels and login pages with our best-in-class Web Application Firewall.
Website Speed Optimization
Boost website speed by an average of 60% with our caching options and global content delivery network (CDN).
Trusted by Industry Leaders
Looking for a more cost-effective solution?
Our Basic and Pro plans are more affordable with longer response times to reduce costs.
Pepper IT
"In a fast moving digital world with automated attacks, Sucuri offers the protection and peace of mind that any webmaster needs"
Learn More
WPBeginner
"With more than 300,000 daily pageviews, WPBeginner uses Sucuri to improve performance, speed, and availability in the face of attacks and traffic spikes."
Learn More
Frequently Asked Questions
How much does Sucuri cost?

We offer plans for every budget, and subscriptions vary depending on the service, response time, and features. You can find more details about specific features and costs on our pricing page.

We also offer custom plans and enterprise features for web professionals with multiple websites.

How long does the malware cleanup process take?

In many cases, our scripts clean the site immediately upon receiving valid FTP credentials. However, if an escalation to a senior analyst is required, we cannot promise a resolution timeframe, but 90% of Basic plan is resolved with 24 hours, Pro within 12 hours, and Business within 6. We also offer one-time priority escalations – chat with us to learn more.

What do you need to clean my infected website?

In order to begin the cleanup process, we need access to your server and its associated files.We get this access in the form of FTP, sFTP, or SSH access to your server. FTP stands for File Transfer Protocol, SFTP for Secure File Transfer Protocol, and SSH for Secure Shell. These are connection protocol mechanisms that allow us to log into servers to edit/add/remove files.These connection protocols allow us to log into your websites, specifically the server, and perform the remediation process. If you for some reason are unfamiliar with these protocols, don't worry, our team of analysts are prepared to assist you in the process. To do so, you'll need to be willing to share access information to your hosting account.

Will you clean my website if it's already infected?

Yes, the Sucuri Platform will clean your website if you are currently infected.

Do you back up the website before cleaning?

We backup every file we touch prior to remediation. We do not backup the entire site but do offer a backup service you can leverage if you're interested in a backup solution.