Similar to Q1, we provide a deep dive analysis into the WordPress platform as it makes up 74% of our sampling. The top three WordPress plugins / scripts, continues to be TimThumb, Revslider, and Gravity Forms: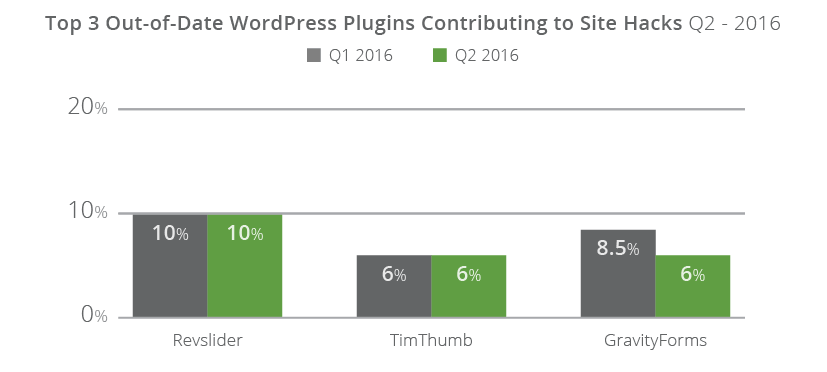 These were the top three out-of-date, vulnerable, plugins at the point in Sucuri provided incident response services:
The most significant change came from Gravity Forms, in which we identified a 29% improvement in the plugins impact to infected websites. This can be for a number of reasons, most importantly,the total affected market has either been already addressed, actively patched or both. Again, it's premature to jump to conclusions and we'll continue to monitor this in the upcoming quarters.
All three plugins had a fix available over a year, with TimThumb going back multiple years (four to be exact, circa 2011). Gravity Forms was patched in version 1.8.20, December 2014 to address the Arbitrary File Upload (AFU) vulnerability that is causing the issues identified in this report. RevSlider was patched silently February 2014, publicly disclosed by Sucuri September 2014, and mass compromises started, and have continued, since December of 2014. This illustrates the challenges the community faces in making website owners aware of the issues, enabling the website owners to patch the issues, and facilitating the everyday maintenance and administration of websites by their webmasters. TimThumb was by far the most interesting revelation in the analysis, specifically that it's still a significant player in today's hacks.
Additionally in this report, we expanded our telemetry data to include information that may be of value to us as we analyze it over time. The first bit of data is the distribution of the most common plugins in the infected websites we analyzed.
Note: If any plugin % doesn't match the overall plugin utilization, it is likely a red flag that it has some issues.
We don't currently have a firm grasp on the plugin utilization across the entire spectrum of sites we analyzed, which makes the comparison harder, but it's something we're looking to improve in the upcoming quarterly reports.
On average, a compromised site has 12 plugins installed.